In the last few years Doctors, nutritionists and dietitians have been singing the praises of the Mediterranean diet, claiming it is the answer to all sorts of ailments from obesity to high cholesterol and even cancer. But anyone visiting Greece would wonder exactly what is meant by the Mediterranean diet for while those of us outside the Med have been eating more whole grains, extra virgin olive oil and fresh vegetables, the Greeks have been eating more meat, turning a once or twice a week special occasion food to a daily affair, sometimes twice daily. As the Greeks become more affluent they eat more meat.
There is still some evidence that the good stuff they eat more than makes up for the drawbacks of a meat-heavy diet in the same way that people wonder how the French can eat such rich food and not be obese. However, if one lives on a Greek island, there is no better evidence of what the change in the Greek diet has meant then to watch Athenians get off the ferry on a holiday weekend. In the villages the Greeks are active and are eating well. The Athenians on the other hand, are looking more like overweight Americans, not surprising since they are eating like Americans: processed food, refined sugar and lots of meat.
I am not complaining. After all there are those who claim that a protein rich, low carb diet is the road to health. It may be one of many paths of which the most important is not to overindulge. But if you are visiting Greece for a couple weeks, why not indulge? Anyone who goes to Greece to lose weight is putting themselves in the same situation as the person who goes to Octoberfest to quit drinking beer.
Greek Meat Dishes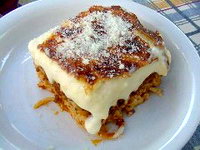 The most common meats in Greece are pork, lamb, beef, goat, chicken, veal and rabbit not necessarily in that order. Because it was expensive in the past, before the Greeks became affluent enough to eat it every day, meat was eaten perhaps twice a week and usually with vegetables, pasta or grains. One of the most well known meat dishes is mousaka, which is eggplant, ground beef (or lamb or pork), potatos and tomato sauce with béchamel which illustrates the way the Greek chefs use meat as a component to a dish. Many meat dishes are cooked in tomatoes and red wine and others in lemon such as lamb fricasse, which is lamb cooked with endives or romaine lettuce and an egg-lemon sauce. Garlic is used heavily as are onions and potatoes in the many stews and oven baked dishes. There is a pork dish similar to fricasse which is made with celery and served in the winter called hirino me celino. Dolmades (stuffed grape leaves), kolokithia gemista, (stuffed zuchinni), tomates ke peperies gemista (stuffed tomatoes and peppers) and laxano gemista (stuffed cabbage) are other examples of stretching the meat by using it with rice and vegetables. Pastitsio (photo) is like lasagna though not as saucy and is made with pasta, ground beef, tomatoes, onions and garlic and béchamel sauce. Giovetsi is lamb baked with orzo pasta and tomato sauce.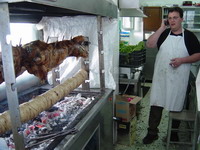 For Easter the most popular food for most of Greece is whole lamb roasted on a spit. This is especially popular because it follows 40 days of fasting for lent and people are definitely ready for some meat, though not everyone fasts the entire forty days. If one has been to an Easter dinner in Greece you undoubtedly have memories of the men standing around watching the lamb turning over the hot coals, usually kept company by a kokoretsi, the intestines of the lamb stuffed with organ meat and also spit-roasted. Usually this takes place outdoors on Easter Sunday but in some places they head straight from the midnight mass at the church to the local taverna for their arni and kokoretsi.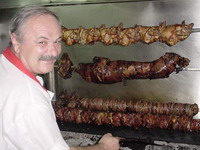 You don't have to wait for Easter to have roast lamb. Whole lamb and kokoretsi is sold in the psistarias (grill houses) all over Athens and especially on the roads outside of town. Areas like Vari and Kalivia are known for the large grill houses that are full of carnivores on weekend nights and Sunday afternoons. Also popular at these places are ourounopoulo, which is roast suckling pig, which I prefer to lamb, especially the crispy outer skin thateven if it takes a year or so off your life is worth it. In some villages certain restaurants are known for the cook's ability to make the perfect pig and Saturday nights you have to get there early for a table. Kontosouvli is pork, big hunks of it skewered and put on a rotisserie with onions, tomatoes, peppers, and seasoned with salt and pepper, garlic and oregano. Kotopoulo (chicken) can also be roasted on a rotisserie, grilled or oven-roasted with potatoes, garlic, onions and lemon. I bought a Showtime Rotisserie for my house so that I can make chicken and kontosouvli and Greek friends who have come to dinner have exclaimed that my house smells like a psisatria.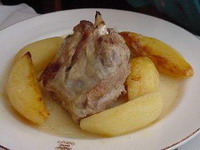 Lamb is also made in the oven with roast potatoes. Even today in many villages, the Sunday dinner is brought to the bakery and for a small fee they cook the meal. This was because many homes did not have an oven, but even now that everyone has one they still bring their roast lamb and potatoes to the fourno (bakery) so that they don't have to make the whole apartment unbearably hot, especially in the summer. The recipe is pretty simple and consists of lamb, garlic, potatoes, salt, pepper, oregano and lemon. This dish is found in just about every restaurant that specializes in oven-cooked foods. You can get the same dish but made with chicken too. They are called Arni (lamb) psito me potates sto fourno or kotopoulo (chicken) psito me patates sto fourno. Katsiki (goat) is similar to lamb, though not as fatty, so therefore not as tasty though many people prefer it. It can be rotisserie roasted but is found more often in lemon sauce called katsiki lemonato with potatoes or with pasta, or Sifnos style, cooked in a clay pot, called mastello (or in other places it is called stamna.) The meat and vegetables are put in a clay pot and sealed. They are then cooked in the oven for several hours. Beef and lamb and chicken can also be found cooked in lemon sauce, called lemonato. There is a dish called arni kleftiko which is similar to the roast lamb with potatoes only it is cooked in oiled parchment paper which makes it much more tender, almost as if it has been steamed first. It is called kleftiko because it was eaten by the Klefts, the guerrilla fighters who fought against the Turks in the war for Independence. The reason they cooked it this way is so the paper would hide the aroma of the meat so their hideout would not be given away.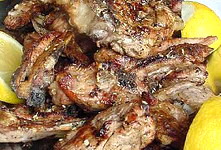 One of my favorite dishes is paidakia which are grilled lamb-chops and are to Greeks as baby-back ribs are to a southerner. A party of four can easily eat a kilo of these and many restaurants are known for their paidakia. Often the rallying cry for a night out is "Let's go for paidakia" and the evening begins at 10 pm and ends hours later after kilos of wine and lamb-chops as the waiters are sweeping up and the other parties around us are finishing their paidakia and leaving to go to the bouzoukia to listen to Greek music until the sun rises. Paidakia are meant to be eaten with your fingers and like baby-back ribs, require lots of napkins. Most people who try them in Greece long for them when they leave. You can't find good paidakia outside of Greece or if you can, I haven't.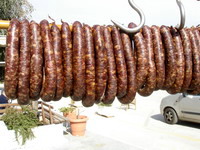 Loukaniko are sausages and there are as many types as there are people to make them. Among the most popular are those from Naxos. Spetsofai is a dish from Volos that is made with sausage, peppers, tomatoes and onions and is eaten in the winter and usually with tsipuro or ouzo. Sousoukia are in the sausage family and are heavily spiced and often salty. Pastrama has an appearance of pastrami but is cured beef with a paste of spices around it. We used to call it camel meat and perhaps historically that is what it was. This is sliced and eaten cold as an appetiser or baked with cheese and tomato sauce to make saganaki pastrama. It can also be found in pastramatopita, which is a pie, made with pastrama and cheese. In the Athens Central market there are shops that specialize in loukaniko and smoked meats. On the island of Kea one of the specialities is smoked pork loin.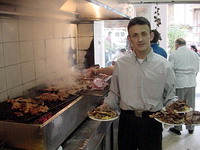 Brizoles are steaks, usually pork and beef and mostly served well-done with fried potatoes. There are some restaurants in Athens, like Telis (photo) near Platia Komoundourou that specialize in hirino brizoles (grilled pork-chops). In fact all they serve is hirino brizoles, fried potatoes, salad, and sadziki. There are restaurants that actually serve lambs head. They split it open for you so you don't have to bring a hammer and chisel with you, but it is not the best thing on the menu and may not be that healthy for you either. The lamb's brain is considered a delicacy but it has the consistancy of oatmeal and tastes what you would expect a brain to taste like. You can get brizoles in just about any taverna or psistaria as well as any of the tourist restaurants in the Plaka.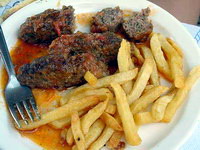 Kima, which means meat and usually means beef, is found in the most basic pasta dish of all called macaronia me kima a meal that has provided sustenance for many a tourist child who was not adventurous enough to try other Greek dishes. It is a plate of macaroni with a pile of ground beef that has been cooked in a pot with onions, garlic, oregano, salt and pepper. It's good and proves that pasta with meat sauce can survive the absence of tomatoes. A better use of ground beef is soutzoukakia (photo)which are oblong patties made of ground beef (or pork or veal if you like), lots of cumin, onion, oregano and grilled. These can be served plain or further cooked in a tomato sauce, which is more common in Greek restaurants. And of course beefteakia, the bun-less hamburger, with fried potatoes is another kid pleaser for difficult young eaters. Beefteakia are like hamburgers, though seasoned so expertly you won't even miss the ketchup. Keftedes are meatballs, usually a smaller version of beefteakia though they are more often deep-fried than they are grilled. Many people put lemon on their beefteakia, keftedes and brizoles. I do anyway.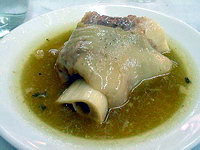 Yida is a stew made of beef and vegetables that tastes great in the winter and is probably pretty healthy, at least as healthy as chicken soup. Patsa, which I have gone into some detail about on another page, is tripe, the innards of a lamb, boiled in a soup and supposedly good for you too. Some people love it and some think it tastes like shit, which it sometimes does, not surprisingly since the intestines are a primary ingredient. In the same family is mayeritsa, the traditional soup used for breaking the 40 day fast, with similar ingredients to patsa, though this is definitely lamb, the same lamb you will be eating the next day on Easter Sunday. It is green in color with chunks of livers and other organs floating around. It tastes better than it looks which is not too difficult. Podi (photo)which means foot is a soup made from, you guessed it: A foot. In this case it is the foot of a cow. The active ingredient, I am guessing, is the marrow which gives it a gluey kind of texture. But I can speak from experience and tell you that as disgusting as it looks (it is after all a bowl of broth with a foot in it), it really is a sort of cure-all for hangovers and even flu-like symptoms. The best place for podi, patsa and mayeritsa is the working class Iepirus Restaurant in Athen central market but many islands have one working-class restaurant that specializes in patsa and podi.
Souvlakia are the most popular meat dish in Greece and deserve a page all their own. Rabbit is less common but is an ingredient in a popular dish called Stifado. This is a stew of rabbit, small onions and a heavy sweet tomato sauce with a strong flavor of cloves. You can also make stifado with chicken or beef. Psaronefi is pork tenderloin, roasted or cooked on a spit.
Greece is a meat eater's paradise but those who love fish and vegetables should not be put off by this page because for you there are just as many choices.