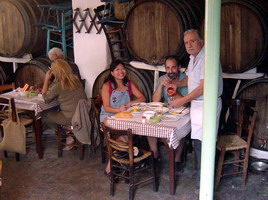 You can buy some really nice Greek wines by the bottle. Not just retsina and domestica but Merlot's and Cabernets etc by big companies like Hatzimichalis and smaller lesser known wineries. A bottle of wine will cost you about 10 euros and up. But you can buy dopio or hima which is local wine by the liter or karafaki (carafe). This does not mean the owner of the restaurant or anyone he knows made this wine in his village for his family and a few thousand tourists. It may even come in a box with a spicket. But it can be just as good as the stuff in the bottle and will be a lot cheaper. You may also find that the wine is made by the owner of the restaurant (especially tavernas) and sold only there and it may be the best thing you ever tasted. If you want to know if it is from a barrel you can ask eine ap to bareli? and if the answer is nai (yes) or ah-meh (a more emphatic yes when it comes to wine) then you are drinking someone's home-made wine. But even if it comes from a box, chances are that once, maybe a long time ago, this too was someone's home-made wine. If the restaurant is full of wine barrels chances are good that it is home-made.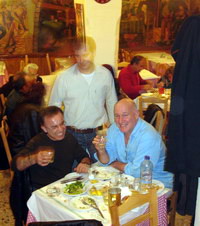 Usually the first guy who comes to your table will bring the silverware, bread and water and he may take your order for drinks. The waiter comes next and you should not be shy about taking him by the hand and showing him what it is you wanted if you can't find anything that sounds like it on the menu. Some people have an ouzo and an appetiser before beginning and you are under no obligation to order your main course right away. In fact if you like you can sit there all night ordering ouzo and appetisers in most restaurants. When we go to eat I always look at the menu but most people just ask the waiter whats good. In fish restaurants they will tell you the barbounia because they are always good and always expensive, unlike the lobster which are sometimes good and always expensive. But in most restaurants they will push the most popular dishes. Many restaurants are known for something they do particularly well. For example Rolando's in Kea is known for his technique of frying fish. Saita in the Plaka is known for his wine and his bacalliaro (fried cod). Taverna Psiri is known for their paidakia (grilled lamb-chops). Other restaurants are known for just having decent food, nothing special but everything pretty good for example Plaka, Byzantino, and To Hani in the Plaka.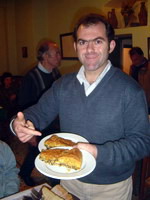 In Greece you can keep ordering. Its not like you have to sit down and order your appetisers, your main course and that's it. If you liked something order another one. Try and get the waiter's name so you can hail him as he passes your table (psssst Yanni, ena beefteki acoma parakalo - pssst John, another beefteki please). If you are drinking wine and just show them the empty carafe they will be right back with more. Greek waiters are very informal. They may even sit down at your table or squeeze your little girl's cheeks (Greeks love children). They don't care if you spend hours at your table. Unlike in the USA where they love turnover, in Greece you are expected to eat slowly and eat a long time and linger after a meal, eating fruit, smoking cigarettes and drinking more wine or a coffee. Never feel like you are under pressure to give up the table to someone else.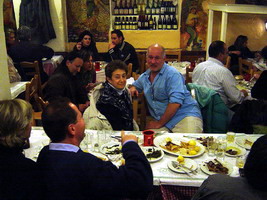 At the end of the meal you will get a bill which is supposed to be a printout from a cash register though if you are in a far off village where the tax people rarely come it may just be a scrawled piece of paper. By law there has to be a receipt for everything on the table and so it should not surprise you if at the end of the night you have a handful of these little receipts. It won't take much work to find the updated one. The reason this is done is not so they can keep track of what you are eating. They know. It is so the government can keep track of what the restaurant is selling. If a tax person comes into a restaurant and the tables don't have receipts they can be charged thousands of euros for each infraction. Some restaurants will offer you complimentary fruits or a desert after a meal. If you come back to the same place over and over again you may hear the magic words "Ti na sas keraso?" which means what can I treat you to? The correct answer is a beer or a karafaki of wine or a coffee, not a lobster or a kilo of barbounia.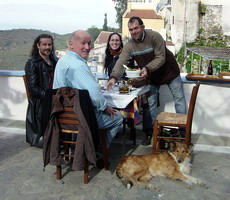 You will notice that the menu says a 15% gratuity is included. That may be but it does not mean it will go to the waiter. Generally the procedure is to take them at their word that the waiter's tip is indeed part of the bill and then leave a few small coins for the boy who cleans up the table. But having known enough waiters who have told me that they never see that 15%, I leave something close to that at a restaurant, maybe between 10 and 15% because you don't know which restaurants they get it and which they don't. Anyway if a waiter deserves 15% you will know it and if they deserve less you will know it too. There is a silver lining to all this. If you go to a restaurant and get it sto packeto (in the package) which means to go and take it to your room and eat it. Your price will be minus the 15%, which is why on many menus you will see two prices. Of course anyone who orders Greek food and then sits in their hotel room eating it is either missing the fun or taking care of someone who is too ill to leave the room. But if you are on a budget or just a cheapskate you can get your meals to go and sit in the park or somewhere and eat it.