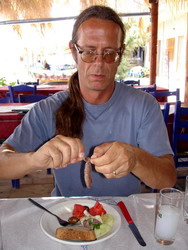 The way the pros do it is to grasp the sardine by the tail and tear it exactly in half. The bone will seperate from one side, leaving you a little mini-filet. Then you have to get the bone out of the other side which you can do by pulling it out or going to the fork method whch is to lay the fish down and using a knife or the edge of your fork, starting at the base of the tail scrape along the spine and separate it from the meat. Then turn the fish over and do the other side. You will need to be holding down the tail with your thumb or the whole fish may end up in your neighbors plate or ear. This can also be done by hand but you will need extra napkins. My method, which I am quite proud of, is actually a combination of the Tom and Jerry and the fork method where you substitute the tines of the fork for your teeth. In other words run the fish through the tines of the fork (starting at the tail as always). The end result will be two filets of sardeles on one side and the fish skeleton on the other. Like anything these methods take practice so don't become frustrated if you don't attain perefection on your first few tries. But if you make it a point to eat sardeles pastes and drink ouzo every day by the time you are ready to go into rehab you will be adept at it. If you don't drink ouzo you will be happy to know sardeles pastes can also be eaten as a meal. My friend Peter Poulides is a non-ouzo drinking sardeles pastes lover who became addicted to them at first bite. But ouzo and sardeles pastes certainly compliment each other and in my opinion there is no better meze when they are in season.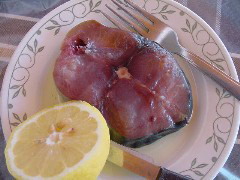 Because of the high oil content of sardines , they are perhaps the bestfish to eat salted and raw, whether in a can or fresh and if you eat them every day you can toss that bottle of Omega 3 fatty acids that you have to keep in the fridge. There are other healthy raw fish in the same catagory including anchovies or anchooyes, well known and popular in Lesvos and the rest of the world. Sometimes whenyou order them in a restaurant or cafeneon they will be canned which is fine but you should try the fresh ones. They usually call them gavros marinatos when they are fresh. Also a kind of mackeral, called scoumbri is served, sometimes out of cans and sometimes done on the premises. The canned stuff makes a great gift and is available not only in food markets but in gift and tourist shops too. This pretty much has to be eaten with ouzo. It looks delicious when you buy it but its one of those things that tastes better the more you drink and tastes awful if you don't. Much better is Lakerda, (photo) a variety of small tuna that is available in some restaurants and this is generally made in the restaurant or at home. Chances are good that no matter where you go in Lesvos, even the most remote taverna will have one kind of pastes or another. On other islands and in Athens chances are any raw fish will be canned.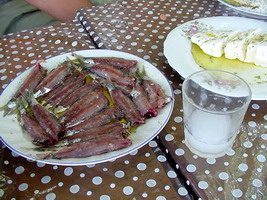 As for buying sardeles pastes to keep in your room or carry around with you to give as gifts to your friends or favorite cafeneon owner, you can sometimes find them in the market in Mytilini town at a fish store around the corner from the Mattis Ouzo shop. In Kaloni there are several fishermen who sell it from their homes. Usually the procedure is to meet with the fisherman and order some for the next day, or whenever you can make it back to the village. I buy mine from a fisherman named Panayotis and his hard bargaining mother. They have a house on the main beach road and you can find him through Fiona at Tsalis rent a car on the beach road. You can also ask the master boat builder Panayotis Psaradelis who along with building and maintaining the sardine fleet at Kaloni, sells sardeles pastes from his workshop next to the Medusa restaurant. The Medusa Restaurant will sell them to you if they have enough. That is where i get them now and then bring them to Aunt Aglaia in the village of Xidera, Lesvos and when she is done with them they look like this photo.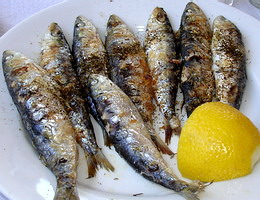 To spend a whole page or two writing about sardines and not mention other dishes besides pastes would make this guide incomplete and leave the reader unaware of what I think is the best fish dish and culinary delight on the face of the planet. Yes, better then the poison dart fish of Japan, better then Maine lobster and perhaps even better then barbounia (red mullet). I am talking about fresh grilled sardines, seasoned with oil, lemon and oregano. When sardines are in season they are available almost anywhere. For the best restaurants serving them grilled, fried (also delicious) or sardeles pastes, go to my Lesvos restaurant guide. You can also get them in Athens at a number of restaurants including Paradosiako Cafeneon on Voulis street. See my Athens restaurant guide.
For more on sardelles pastes read my True Life Stories of Eating Sardeles Pastes
For information on Lesvos where eating sardeles pastes is a way of life see www.lesvos.com